The Pure Bonaire Calendar
The Birds of Bonaire, 2023
The Pure Bonaire 2023 Calendar–The Birds of Bonaire.
Celebrating Bonaire's Avian Diversity.
The Pure Bonaire Calendar 2023–The Birds of Bonaire will return you to Bonaire all year long and remind you of your birding experience!  Featuring Bonaire's most popular birds–the iconic flamingos, the parrots, and parakeets–the calendar also illustrates the island's herons and egrets, shorebirds, terrestrial birds, ducks, birds of prey, as well as the rare Cape May Warbler and Black Skimmers.
This premium calendar features 11" x 17" pages and hangs vertically with spiral binding on the top, premium glossy paper stock, and full-color interior ink.  Bonaire's holidays for the coming year are noted on the calendar.  For Bonaire's visiting birders, it will provide a glimpse into the wonderful avian diversity that Bonaire offers. The cost of this deluxe wall calendar is $48.95 plus shipping.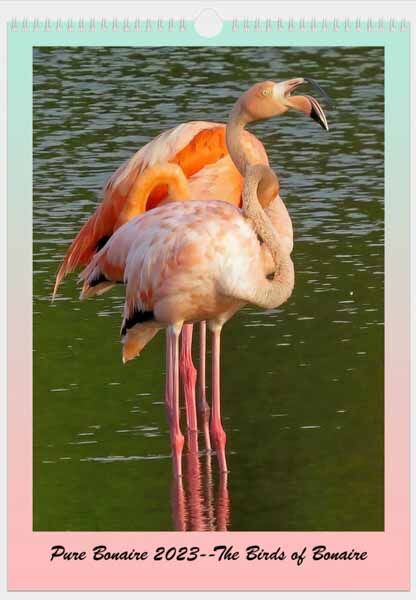 Preview the Pure Bonaire 2023 Calendar–The Birds of Bonaire.
How to purchase the Pure Bonaire 2023 calendar.
Simply fill in the online form to order your calendar.  You'll be contacted by Susan in regard to the shipping date or any other pertinent data.  Enjoy the calendar every day of 2023!
Get in touch with Susan to check availability for the dates you are visiting Bonaire.