It's time for Global Big Day 2023!
Join me once again on Team Flying Pintails as we do our best to find the most species while raising funds for Caribbean bird conservation.
All About Global Big Day 2023 and the Flying Pintails.
Get ready for an exhilarating birding event coming up this Saturday—the highly anticipated Global Big Day 2023! Once again, I am thrilled to be a part of Team Flying Pintails, led by the esteemed BirdsCaribbean Executive Director, Lisa Sorenson. Wherever you are in the world, I invite you to join me in this fantastic bird-counting endeavor. Global Big Day 2023 serves as a fundraiser for the Caribbean Bird Banding (CBB) Network. By supporting this event, you will contribute to BirdsCaribbean's continuous provision of bands and other essential resources to Caribbean banders. Additionally, the funds raised will enable the organization to host more international training workshops, assist Caribbean banders in pursuing internships, and create further opportunities for skill development and network expansion across various Caribbean islands.
Last year, a remarkable 1,078 species were reported by 15 teams consisting of members from 29 countries. This impressive achievement, coupled with the generous donations received, amounted to nearly $14,000, benefiting Caribbean bird conservation efforts. No matter where you are in the world, you can join me on this fun day as we all embark on a full day of birding adventures.
About Global Big Day.
Global Big Day, an annual event organized by the Cornell Lab of Ornithology, brings together birders from around the world in a thrilling 24-hour challenge. Birders, often forming teams such as the Flying Pintails, explore diverse areas, striving to observe as many bird species as possible. In 2022, Global Big Day united a staggering 51,000 birders from 201 countries who collectively submitted 132,000 checklists through eBird. This remarkable feat currently holds the world record for the most bird species observed in a single day. Can we surpass this remarkable achievement in 2023? Let's find out together!
Introducing Team Flying Pintails.
Uniting on Global Big Day 2023 for Caribbean Birds and fun!
I invite you to be a part of Team Flying Pintails, an exceptional group assembled by Lisa to take on other teams in a friendly, yet competitive, birding event. Our mission is to surpass our rivals while supporting the invaluable conservation efforts of BirdsCaribbean, aiming to raise funds to continue their outstanding work. As of now, Team Flying Pintails is making remarkable progress, being almost half of the way to our target. However, we need your assistance to reach our goal, and we warmly welcome you to join us in this exciting endeavor.
There are two ways you can contribute to Global Big Day 2023:
Make a donation to BirdsCaribbean through Team Flying Pintails.
If you are unable to partake in the competition this year, you can still make a meaningful impact by supporting Caribbean birds through a contribution. No amount is too small, and your generosity will be greatly appreciated. You can make your donation here: https://givebutter.com/BCGBD2023/flying-pintails-1/susandavis
Join our team and participate in bird counting on Saturday.
You can become an integral member of our global squad simply by visiting https://givebutter.com/BCGBD2023/flying-pintails-1 and signing up. Whether you choose to engage in fundraising or not is entirely up to you.
Use eBird and Merlin ID to help track your birds.
To ensure a successful Global Big Day experience, each team member should plan to conduct one or more bird counts throughout the day. Here are some essential details to record during each count: the start and end time of your count, your specific location, all species observed, and the estimated number of individuals for each species (if exact counting is challenging).
The easiest and most efficient way to conduct counts is by using the eBird Mobile app, available for both iPhone and Android. This app allows you to conveniently log your observations in real time. However, if you prefer, you can use the traditional method of pen and paper to record your findings and enter them into eBird later in the day. For participants based in the Caribbean, the option of using eBird Caribbean is also available. Keep in mind that each team member has the flexibility to conduct multiple counts throughout the day, and you can choose different locations for each count.
These counts can be stationary, where you remain in one location (such as your backyard), or traveling counts, where you explore trails or observe birds in your neighborhood. It is recommended that each count lasts at least 10 minutes, and a separate checklist should be initiated for each distinct location. By following these guidelines, we can ensure accurate and comprehensive data collection during Global Big Day 2023.
At the conclusion of Global Big Day on May 13th, it is crucial for each team member to enter their checklists into eBird. You have multiple options for submitting your checklists: directly from the eBird Mobile app, through the eBird website, or via eBird Caribbean if you participated in the Caribbean region. Once you have entered your checklists into eBird, it is essential to share them with our team's dedicated eBird account specifically created for Global Big Day. Please ensure that your submitted checklists are shared with the following account: BCGBDFlyingPintails.
By sharing your checklists with this designated eBird account, we can consolidate and analyze the team's collective observations, enhancing our understanding of bird species distribution and abundance during Global Big Day. Thank you for your participation, and don't forget to share your checklists with the BCGBDFlyingPintails eBird account after submission. Together, we can contribute to the success of Global Big Day 2023!  And, if you can spare a bit of money to help out our Caribbean birds, they and I will thank you!
(Source:  BirdsCaribbean, images courtesy of the author)
Sign up to receive notifications when a new article is posted.
About the author: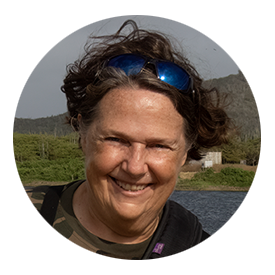 Susan has been living on Bonaire for over 30 years. She is a certified bird guide, as well as a topside and underwater photographer. She is a 2016 graduate of the Caribbean Birding Trail Interpretive Guide Course conducted by BirdsCaribbean.
Contact Susan via email, Facebook Messenger, give Susan a call, or simply use the online form below.
If you have any questions in regard to your birding tour on Bonaire, feel free to contact Susan to get answers.  She is always happy to elaborate on routes or best times for a tour based upon your own personal preferences.  Tours can be tailored to your own interests, whether that be birds, photography, or both!
It is also recommended that you do some homework about Bonaire's birds before you visit.  By knowing a little bit about the birds which might be encountered on tour, your enjoyment will be heightened!  Be sure to check out these resources for Bonaire Birding. Reading the Bonaire Bird Blog will also accustom you to the birds that habitually are encountered on Bonaire.
Get in touch with Susan to check availability for the dates you are visiting Bonaire.