The White-Tailed Kite, a New Bird for Bonaire!
Posted September 12, 2022
Bonaire's first White-tailed Kite.
It was with a mixture of disbelief, delight, and awe, with a huge smile crossing my face, that I first set eyes on (the first observation of) a White-tailed Kite, here on Bonaire.
I had almost stopped birding for the day, but with an hour of sunlight left before sunset, I told myself, "I'll just make one more stop."  I never got there!
As I was driving to my final location for the afternoon, I saw, from the rear, what looked to be a small raptor.   All I could see was black and white, and my first thought was, "A very small Osprey?" 
But as I pulled up beside this elegant-looking bird of prey, it turned its face to me–and, as we stared into each other's eyes, I saw the soulful, pure white face and petite, hooked bill, and I immediately knew this was a special bird!
The raptor was perched on top of the area's tallest tree, and at first glance, I could only make out the black on the side and the white face, throat, chest, and belly, as it sat above me.  It was stunning in its beauty and seemed to exude a calm, mellow demeanor, not at all alarmed by my presence just 30 feet (10 meters) away.
At first, I thought I had found a Swallow-tailed Kite, which is, indeed, black and white.  It was only after a few minutes that the bird re-positioned itself, and I could see the gray on the upper parts above the wing.  No!  It wasn't a Swallow-tailed Kite, but instead a White-tailed Kite (Elanus leucurus)!
How to identify the White-tailed Kite.
The White-tailed Kite is a small hawk, which, in adult plumage (as illustrated here), displays a white head and underparts, a gray back, and wings with a large black bar, starting at the shoulder.
The white tail is squared off, and a black patch surrounds the red eye.  The underwings are white, but with black primaries and a large black splotch at the bend of the wings.
When observed from a distance, its hovering hunting behavior could be helpful with identification.
Hunting and perching behaviors of the White-tailed Kite.
When not hunting, the White-tailed Kite prefers to perch as high as possible in areas of fields, so be sure to look high in the trees to find it.  The kite might be found just before sunrise, or just at dusk, as it returns to high trees to roost for the night.
White-tailed Kites generally will begin foraging just after sunrise, so this is when you'll likely find them hovering over fields facing into the wind. 
Keep watch for hovering, a key behavior of the White-tailed Kite.
The White-tailed Kite's distinctive hunting behavior is to hover over fields and grasslands with its wings continuously beating to keep it as steady as a hovering helicopter, with its head tipped downward to search for small mammals (its favorite food) moving in the grasses below.  This behavior is so indicative of the kite, that the behavior itself is known as "kiting."  Watch for the White-tailed Kite above fields or grasslands, as the hovering behavior can be easily discerned, even at a distance.
eBird regional data about the White-tailed Kite.
When queried, the eBird database informs us that the White-tailed Kite has never before been observed here on Bonaire, so it has officially become the third new bird for Bonaire in 2022 (along with the Yellow-legged Thrush and Black Noddy).
In looking at our sister islands of Curacao and Aruba, which jointly make up the ABC islands along with Bonaire, we learn that Curacao has never been favored with a sighting.  However, Aruba had one brief sighting of a juvenile White-tailed Kite in June 1980, 42 years ago!
Indeed, the White-tailed Kite which is visiting Bonaire is a very special bird!
The trend of rare visitors from South America continues.
Most likely the White-tailed Kite observed here on Bonaire comes from South America, and this continues an ABC Island trend that has been noted over the past year or two.  Some unusual birds have been popping up on Bonaire (as well as on Curacao and Aruba), including the Blue-and-white Swallow and Wattled Jacana in 2021 here on Bonaire.  Increased sightings of Striated Herons have been recorded during this timeframe as well.
Birders in both Curacao and Aruba have enjoyed the visits of other unusual South American species as well, including a recent extended visit of a Double-striped Thick-knee in Curacao.
Always keep your eyes open, as you never know when a rare bird will be observed.
Serendipity played a huge role in finding Bonaire's third new bird of 2022, as it does in the observations of most rare birds.  Keep your eyes peeled for birds anywhere, even when you're driving to a birding location.  Since birds are everywhere, you just never know when a lifer, or, even better, a first record might just happen along the side of the road.
Fall migration is now in full swing.  Enjoy these next few months when birders might find new lifers, as the migrants are passing through to their wintering grounds.  Many of these birds cannot be observed on Bonaire except during migration seasons.
Sign up to receive notifications when a new story is posted.
About the author: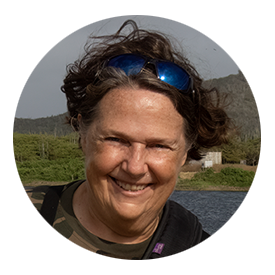 Susan has been living on Bonaire for over 30 years. She is a certified bird guide, as well as a topside and underwater photographer. She is a 2016 graduate of the Caribbean Birding Trail Interpretive Guide Course conducted by BirdsCaribbean.
Contact Susan via email, Facebook Messenger, give Susan a call, or simply use the online form below.
If you have any questions in regard to your birding tour on Bonaire, feel free to contact Susan to get answers.  She is always happy to elaborate on routes or best times for a tour based upon your own personal preferences.  Tours can be tailored to your own interests, whether that be birds, photography, or both!
It is also recommended that you do some homework about Bonaire's birds before you visit.  By knowing a little bit about the birds which might be encountered on tour, your enjoyment will be heightened!  Be sure to check out these resources for Bonaire Birding. Reading the Bonaire Bird Blog will also accustom you to the birds that habitually are encountered on Bonaire.
Get in touch with Susan to check availability for the dates you are visiting Bonaire.